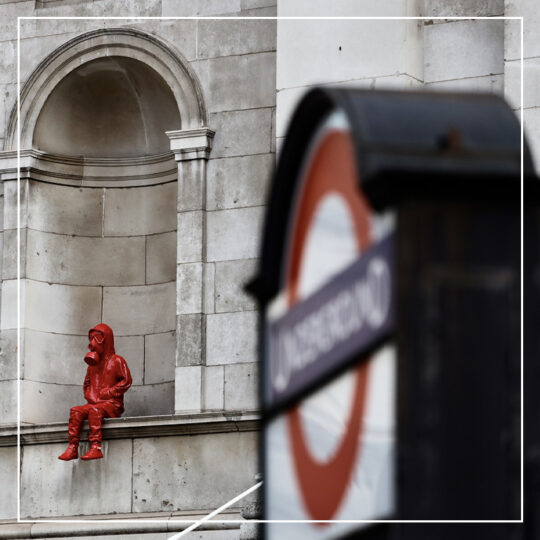 JAMES COLOMINA STRIKES AGAIN IN LONDON!
London seems to be the new playground of the humanist street-artist James Colomina. During the night of December 3rd, the Toulouse native installed no less than 3 sculptures in the English capital.
On the Mansion House, official residence of the Lord Mayor of the City of London in the United Kingdom – used for City meetings – «THE CHILD WITH THE MASK» is sitting with his gas mask to draw our attention to the need to take care of our planet to continue to be able to breathe the air around us.
James Colomina, who works in secret, then placed some surveillance cameras of his iconic red next to real cameras. The artist invites us to "ask ourselves the question of who is the intruder, the red cameras or the others? And if there is a real acceptance of this surveillance?
Finally, he came to balance a red ball Colomina on the foot of the sculpture of George Peabody. This work opens the debate on the soccer world cup which is currently taking place in Qatar: will we remember more in the future the playful aspect of this competition or the aberration and the human cost that it has generated?
Only one thing remains certain: James Colomina continues to surprise us!