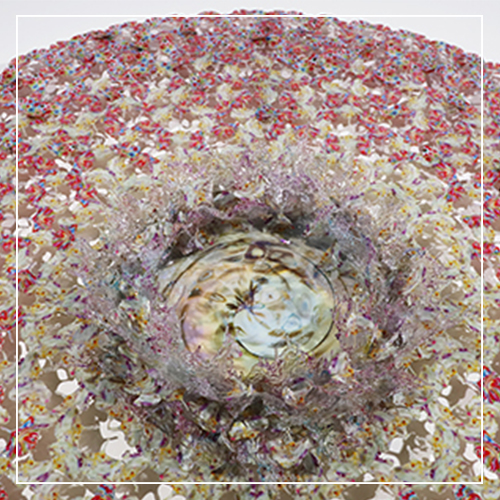 ANNALU – New technique
The artist Annalu makes us discover her new technique…
Murano glass sculptures.
"It is a new and unique technique in the world; it is made only in a foundry in Murano which has been active in Venice since 1300!
I am very honoured and happy to be able to work there as well. In the centre of the ginkgo-leaf "Dreamcatcher", the glass disc is made by exploding coloured murrine inside the incandescent glass. This explosion occurs by the contact of the hot glass with a metal at the base and the rotation creates the explosion and fusion.
The master of glass and I also used mother-of-pearl which gives sparkle and vibration when you move your gaze to the side to look at the disc.
Based on the colors obtained inside the disc, I then created a whole new design of colors in the different ginko leaves.
So I recreated the reverse procedure: from the fused colors of the murrine, I reconstructed the murrine that can be seen as fluid inside the outermost leaves on the outside of the dreamcatcher. You can see everything I've attached in my drawing."
Annalu