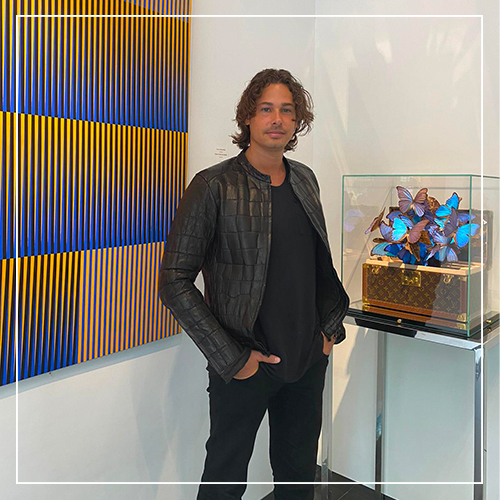 ROMAN FERAL IN PARIS
We had the pleasure to receive the visit of the young and talented sculptor Roman Feral in our Parisian gallery this summer. 
"We are very happy to support him in his artistic evolution, to fight for the young talents, to offer them a visibility next to the great artists of our time so that they can also become the great ones of tomorrow… This is our philosophy" – Robert Bartoux
Originally from Paris, France, Roman Feral made a name for himself very early on in the international contemporary art scene. He is not only influenced by his rich cultural background, but also inspired by the codes of the fashion industry. Roman Feral celebrates luxury brands while highlighting the beauty of nature. Like a true alchemist, he seeks to capture the essence of refinement and preciousness of some luxury icons with one of nature's most delicate gems: butterflies. By making them fly, he creates the illusion of endless flight, a moment of suspended grace and the impression of granting the delicate butterflies an eternal life.