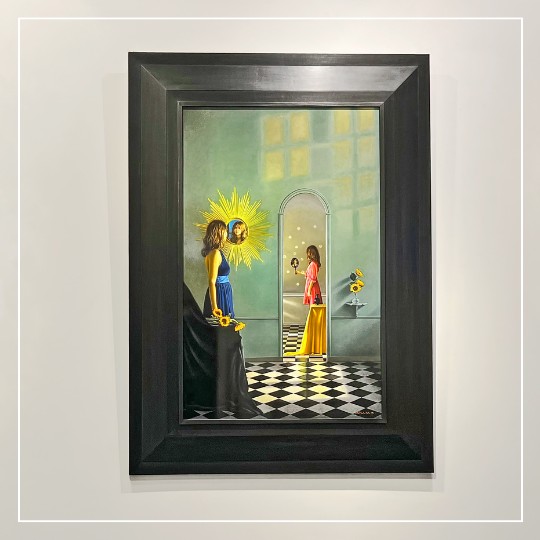 « MOÏRA » THE NEW CUSTOM-MADE ARTWORK OF PIERRE-YVES RUSSO
Each artist has his favorite themes, his ways of doing things, his palette of colors. A few months ago, a new challenge was offered to Pierre-Yves Russo …
In order to respond to a commission, the artist had to break away from his habits to meet specific demands: to create a painting depicting the crossing of destinies between a mother and her daughter using accessories dear to the hearts of his collectors.
«The mother contemplates in the face of her daughter her own youth, and the daughter discovers in the portrait of her mother the accomplished woman she will become.»
After a long reflection on the composition and the atmosphere he wanted to create, the painter threw himself for almost 6 months into the realization of this commission.
For the first time, he used the finest brushes available (like a pinpoint) for extreme precision and meticulousness in his execution.
The artist also imagined a cloud of bubbles floating around a character to infuse a dreamlike lightness to this scene located between reality and imagination …
«As a painter we are rarely witnesses of the emotion that our work arouses, because the painter is in his studio and his artworks in the gallery.»
The return of «MOÏRA» was a moving moment for the painter and his clients. The latter explained to him the meaning of details that the painter often ignores.
Overwhelmed by this unique masterpiece, the couple has already placed a new order!
Galeries Bartoux is proud to support these unique projects: a tailor-made experience where the artist grows while the collectors' dream is fulfilled…