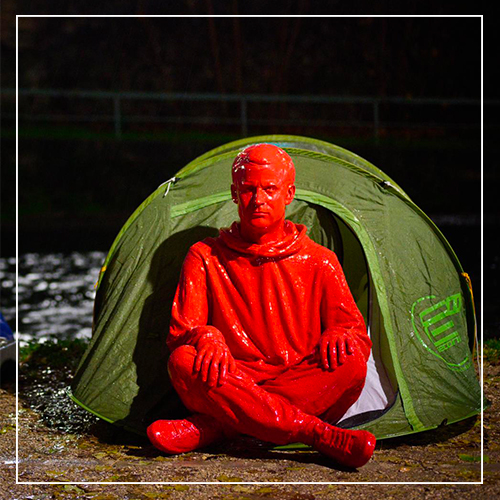 JAMES COLOMINA IN PARIS
On the occasion of President Emmanuel Macron's birthday, coinciding with the first day of winter, the street artist James Colomina decided to install a sculpture of the President on 21 December in front of a tent on Quai de Valmy in the 10th arrondissement of Paris, a famous place where migrant camps have been dismantled several times in recent years. A strong message from the artist who denounces the "trivialization of the misery of the homeless locked outside and too often forgotten". He says: "I just took our President who is at the very top of the pyramid to put him at the very bottom".
A committed artist of our century, this is not the first time that James Colomina has denounced these societal catastrophes. In 2019, he installed a sculpture entitled "the migrant" in several symbolic places in the French capital such as Place Vendôme, the Eiffel Tower or the Arc de Triomphe.  James Colomina is not finished yet, Miami is his next city where his works must carry "societal" messages that are dear to him.  
James Colomina's works are available in our galleries.