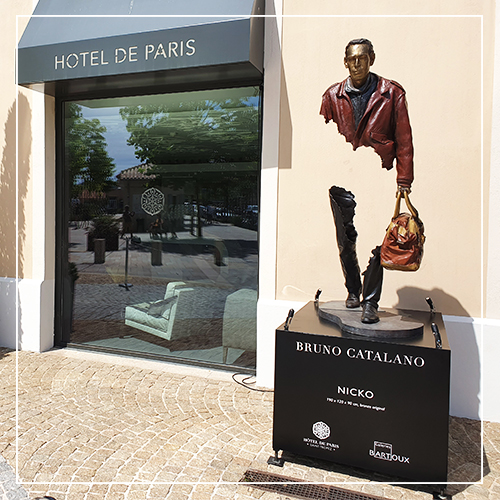 BRUNO CATALANO – Hôtel de Paris
We are pleased to present the monumental sculpture NICKO by the artist Bruno Catalano, in front of the famous Hôtel de Paris Saint-Tropez. 
Bruno Catalano began his career in 1990. Since his first works with clay, hundreds of travellers have been born from his hands. The main drivers of its creation are exile and detachment. His unique and original works reflect the artist's feeling of remoteness, torn from his native country during his migration. This emotion passes through a stripping of the work through its process of inserting voids in its characters on a journey. These individual portraits are enhanced by daily scenes of travellers, wandering with an empty mind but transmitting a vibration, an unconscious sound. Bruno Catalano tries through this concept to address today's men whatever their age, driven by this need to escape, convinced that they will find elsewhere the happiness they have not managed to achieve. Bruno Catalano was born in 1960 and now lives in Marseille.
HÔTEL DE PARIS SAINT-TROPEZ
1 Traverse de la Gendarmerie
83990 Saint-Tropez – France