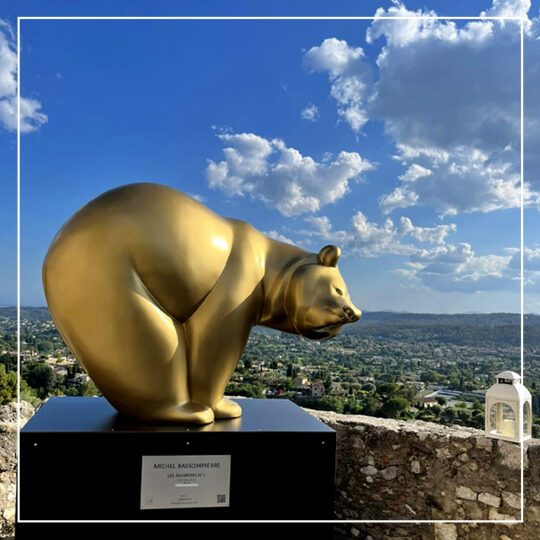 Back to images – Fragile Colossus by Michel Bassompierre
On Thursday, June 30, on the occasion of the opening of the exhibition "FRAGILES COLOSSES" by Michel BASSOMPIERRE, nearly 150 art lovers gathered on the hills of Saint-Paul-de-Vence to share a unique moment with the sculptor.
"To have Michel Bassompierre here with us is an honor. Beyond the sensitivity of the works, the talent of the artist, there is this strong message and so topical: let us preserve the species that surround us. Who better than the artist to raise awareness at a time when global warming is making the headlines?" said Jean-Pierre Camilla, Mayor of the village.
The village has made the protection of the environment its fight. A value that the Bartoux and Bassompierre families share. Galeries Bartoux are proud to sponsor this exhibition that draws attention to a cause as current as essential, which affects all generations.
Earlier in the day, during a conference in the city auditorium, the artist created – live – a work in front of an elementary school class. Sensitized to the preservation of the biosphere, the students chose to call this sculpture "LUCKY": a name that brings hope. Once completed and fired, this work will be displayed in the Old Saint Paul Gallery so that the children can maintain a lasting and special connection with it."
>> ARTIST PAGE
>> SAINT-PAUL GALLERY