Biography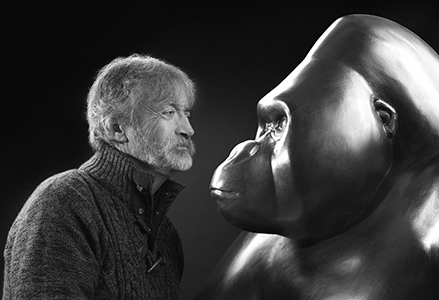 Michel Bassompierre is one of the most important artists in the field of contemporary animal sculpture. He has given this discipline a singular and new style, recognizable at first glance. Seductive and endearing, his work has travelled the world, releasing his marble and bronze bestiary to the four corners of the globe.
Captivated since childhood by drawing and modelling, Michel Bassompierre grew up in a large family between an artist mother and a scientist father. Perhaps this duality will influence his future work, since it is characterized by a resolutely contemporary plastic approach combined with essential anatomical rigour. Trained in Leleu's studio at the School of Fine Arts in Rouen, Michel Bassompierre learns to look.
These are kilos of sketches that he makes at the zoo, in circus menageries or at the Museum of Natural History and through which he builds his understanding of the animal's body, this cleverly articulated machine whose line and movement he grasps. It is precisely this life that he is able to bring to light, making his work so sensitive. If the drawing is decisive, the modeling that is applied to it completes the whole.
Indeed, following in the footsteps of François Pompon, Michel Bassompierre gets rid of the anecdote to get to the essential. Favouring animals with round shapes, Asian elephants, gorillas, bears and horses, he achieves a form that is both soft and precise, where light never collides with shadow. This plastic relationship also reflects his link to the wild world, for which he has a great fascination, far from any anthropomorphism.
These peaceful animals, which seem to be surprised in the intimacy of their lives, are embodied in bronze or Carrara marble according to the traditional codes of sculpture.
Video
More info about this artist?