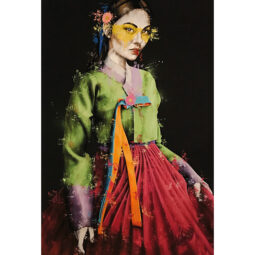 Biography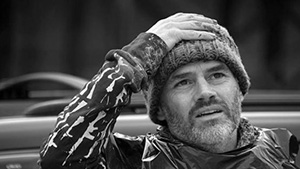 Fin Dac is native from the beautiful city of Cork in the south of Ireland,  has always lived in London where he still is.
Self-taught artist and nonconformist, his modern geishas in black and white, often naked and tattooed, are exhibited around the world. Fin Dac works with stencils and a specific painting leaving the impression of spatters with pop colors around the eyes, just like a mask.
Fin Dac loves beautiful women and is fascinated by Asian mystic and mysterious beauty. With a keen eye on details, he has a real esthetic style that make him different from other urban artists. On the artistic scene since 2008, Fin Dac gets his influence from dark and graphic novels from Francis Bacon or Audrey Beardsley. His first creation was made when his friend T-Wat asked him to realize a graffiti painting in front of the passers-by during an art show for Banksy.
Since then, he paints and exhibits with well-known artists like Goldie, Nick Walker, Jeff Aerosol… He participated to a festival in 'Vitry sur Seine' where he left a wonderful portrait of Samuel Beckett. He also was in Brest in 2011 and took part in the Crimes of Minds project, where he made a gorgeous geisha with impressive details.
"When I paint, I forget everything for hours, even days. I have no plans until when I find something" says Fin Dac.
Recognized by the art community, he works for top brands such as the Royal Albert Hall, Armani, G-Star, Red Bull and also worked for the Olympic Games of London 2012.
His works are now against the walls of Los Angeles, Brussels, Dusseldorf, Madrid, Portsmouth, London, Montreal and much more … He has also been designated as one of "emerging artists" of the country by The Radisson Edwardian group.
More info about this artist?