Biography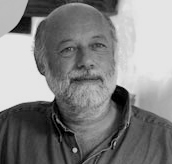 Born in Grenoble in November 1952, Étienne spent his youth and adolescence in the Dauphiné. He continued his university studies in Ottawa (Canada), obtained a degree in visual arts in Marseille, then enrolled at the École nationale supérieure des Beaux-Arts in Paris. He taught from 1974 to 1976.
His first creations are in marble, stone or wood. But soon he opts for bronze, a material that allows him to play with the empty and the full. Étienne cuts his subjects, purifies them, splits them to their essence – a hand, a face, a look – in order to achieve a constant, balanced harmony, both constructive and expressive. Bronze also allows him to explore the chromatic diversity of the patina and to play with the gradation of colours, including the polished finish.
Étienne's work evokes all aspects of human life; many of his sculptures reflect intense moments: human, spiritual, artistic encounters. Abstract to a certain extent, but always figurative, they all have a symbolic value. With tenacity, he sees his sculptures as a means of defending fundamental human values: love, motherhood, friendship, faith. In short, he starts from the principle that all beauty is an eternal joy.
For forty years, Étienne has been actively participating in exhibitions; he has also received numerous commissions both in France and abroad.
More info about this artist?