Biography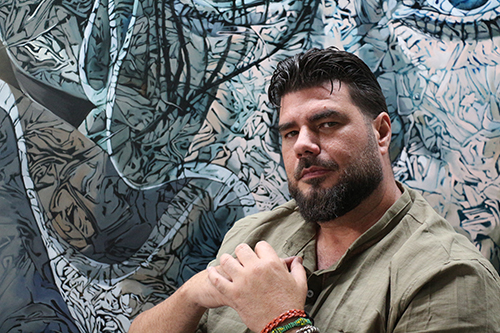 Noel Dobarganes is a Cuban artist born in Matanzas in 1977 who currently lives in Miami. He studied at the "Escuela Profesional de Artes Plásticas Roberto Diago" (Matanzas) from 1997 to 2000, specializing in painting.
His work encompasses the genres of painting, drawing, ceramics and sculpture, with a particular emphasis on painting. His aesthetic uses large formats to create a real impact on the viewer, and the themes revolve mainly around the human being and portraiture, always from a psychological rather than physical perspective.
The difficult situations that every immigrant faces when adapting to a new context, as well as the complicated health condition of his two children who suffer from a chronic immunological disease, have left their mark on his works in such a way that it is impossible to fully understand them without an autobiographical interpretation.
Art critic and curator Piter Ortega said of the artist's work: "Noel Dobarganes is a versatile artist who has moved between abstraction and figuration with great ease. He has also expressed himself in rural landscapes, animal representations, human faces, female nudes, among others. Some distinctive elements of his style are the dynamism and visible movements of the compositions…In the combination of all this, we find the essence of the visual poetry that distinguishes Noel Dobarganes."
More info about this artist?