Biography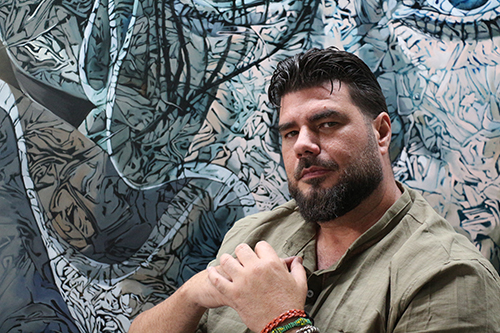 Noel Dobarganes is a Cuban artist born in Matanzas in 1977 who currently lives in Miami. He studied at the "Escuela Profesional de Artes Plásticas Roberto Diago" (Matanzas).
Dobarganes focuses on time and memory as fundamental axes of reflection and likes the complexity of color, areas and lines.
His spaces are loaded in a way that sometimes we get a certain "horror vacui". The artist likes decoration, ornament.
On the other hand, textures also have vital importance in his works: seductive textures, full of sensuality and life. Virtual or real textures, in all cases inciting us to touch the surfaces of the works.
Noel Dobarganes is a versatile artist, who has moved between abstraction and figuration very fluently. Likewise, he has expressed himself in rural landscapes, animal representations, human faces, female nudes, among others.
The relationship between man and nature, the unpredictable effects of light, as well as the links between past, present and future, are approached by the artist through multiple layers of paintings that overlap each other.
As such, despite appearances and the sensuality of the forms, this work is anything but hedonistic. This series of paintings, primarily figurative—although flirting at times with abstraction and formal indefiniteness—traverses a significant portion of the art history of recent centuries, culminating in the comfort of contemporary popular culture.
More info about this artist?