Biography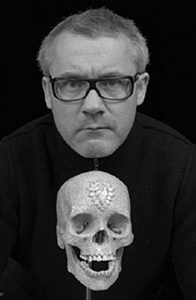 Damien Hirst is a British sculptor, engraver and painter born in 1965 in Bristol. He grew up in Leeds. In 1984, he moved to London, where he worked in the construction industry before obtaining a Bachelor of Fine Arts degree from Goldsmiths College from 1986 to 1989. He was awarded the Turner Prize in 1995. Since the late 1980s, Hirst has been using installation, sculpture, painting and drawing techniques to explore the complex relationship between art, life and death.
According to him, "Art is a matter of life and cannot really be anything else… there is nothing else". Hirst's work studies and challenges modern belief systems, and dissects the tensions and uncertainties at the heart of human experience. Hirst discovered the "unacceptable idea" of death as a teenager in Leeds. From the age of sixteen, he made regular visits to the anatomy department of Leeds Medical School to make drawings of life ("With Dead Head" (1991)). These experiences allowed him to see how difficult it was for him to think about death in life.
He explained the importance of death in his work ("A Thousand Years" (1990)): "You can scare people with death or an idea of their own mortality, or it can actually give them strength". Since 1987, more than 80 solo exhibitions of Damien Hirst's work have taken place around the world and his work has been included in more than 260 group exhibitions. Hirst's first major retrospective, "Agony and Ecstasy", took place at the Museo Archeologico Nazionale in Naples in 2004. His contribution to British art over the past two and a half decades was recognised in 2012 with a major retrospective of his work at the Tate Modern.
More info about this artist?