Biography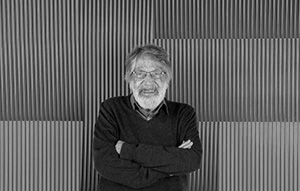 Carlos Cruz-Diez is a French artist of Venezuelan origin born on August 17, 1923 in Caracas and died on July 27, 2019 in Neuilly-sur-Seine. He is considered one of the greatest representatives of optical and kinetic art in the world.
His research and proposals have brought to art a new understanding of the chromatic phenomenon, making him one of the most important artists of kinetic art of our time. He succeeded in demonstrating that color, in interaction with the observer, becomes an autonomous reality that exists without the aid of form or the need for a support. In more than 70 years of artistic career, Carlos Cruz-Diez has developed eight researches on the autonomy of the color.
He has made more than 100 artistic integrations in public spaces and his works are part of the permanent collections of the Museum of Modern Art (MoMA) in New York; Tate Modern, London; Centre Pompidou, Paris; Museum of Fine Arts, Houston, among others. He has founded three art studios, in Caracas, Paris and Panama, as well as the Cruz-Diez Art Foundation in Houston. He has received the Legion of Honor, among other awards and recognitions.
More info about this artist?