Biographie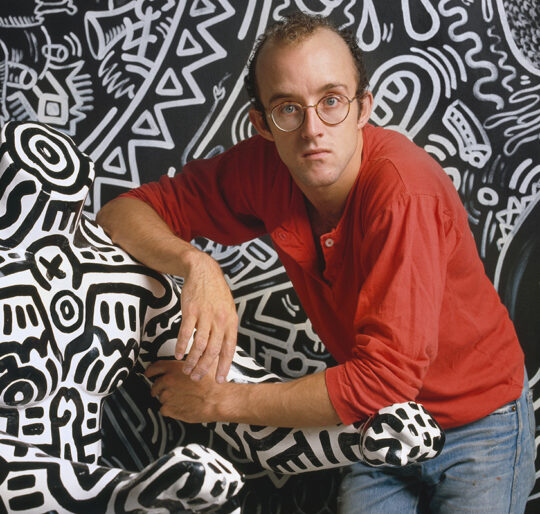 Keith Haring, né le 4 mai 1958, est un artiste dessinateur américain considéré comme une figure emblématique de l'art contemporain et du Pop Art. À la fin de ses études secondaires en 1976, Haring s'inscrit à l'Ivy School of Professional Art de Pittsburgh.Il se rend vite compte qu'il n'est guère intéressé par une carrière de graphiste en publicité et, après deux semestres, abandonne.
La même année, Haring s'installe à New York et s'inscrit à la School of Visual Arts (SVA). À New York, Haring trouve une communauté artistique alternative florissante qui se développe en dehors du système des galeries et des musées, dans les rues, le métro, les clubs et les anciennes salles de danse. Il s'y lie d'amitié avec ses collègues artistes Kenny Scharf et Jean-Michel Basquiat, ainsi qu'avec des artistes du spectacle et des graffeurs.
Haring expérimente la performance, la vidéo, l'installation et le collage, tout en maintenant toujours un engagement fort pour le dessin. En 1980, Haring trouve un moyen de communication très efficace qui lui a permis de communiquer avec un public plus large. Il commence à dessiner à la craie blanche sur des panneaux pub recouverts de papier noir dans tout le métro.
Entre 1980 et 1985, Haring produit des centaines de ces dessins publics, créant parfois jusqu'à quarante « dessins de métro » en un jour. Le métro est devenu, comme l'a dit Haring, un « laboratoire » pour élaborer ses idées et expérimenter ses lignes simples.
Plus d'info sur cet artiste ?