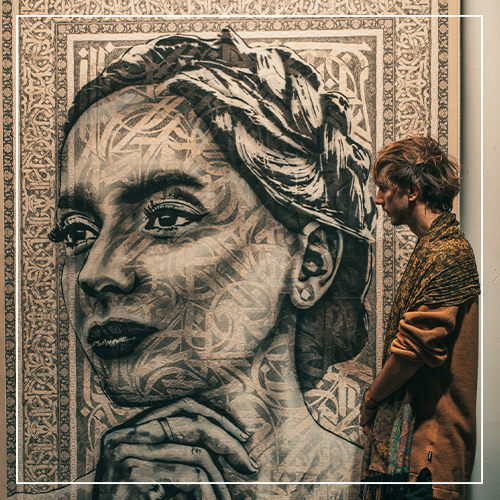 MATEO – "WOMEN FOR WOMEN INTERNATIONAL"
"I hope that women all over the world can get to know each other and have the opportunity to develop their talents and abilities" – Sara  
Drawing his inspiration from the people he meets on his travels, Mateo represents Sara, his Iranian correspondent. Very sensitive to art and the human condition, this young woman works in a Tehran hospital and introduces Mateo to Persian culture.  
Originally from Kashan, famous for its carpets, the street artist has created a portrait of this beautiful Iranian woman on a calligraphy carpet. This creation, which has international resonance, emanates humanity and great delicacy, 
In order to support Afghan women whose dreams have recently been wiped out the artist, in collaboration with Galeries Bartoux,  wishes to donate 20% of the profits of the "SARA" artwork to the association "WOMEN FOR WOMEN INTERNATIONAL".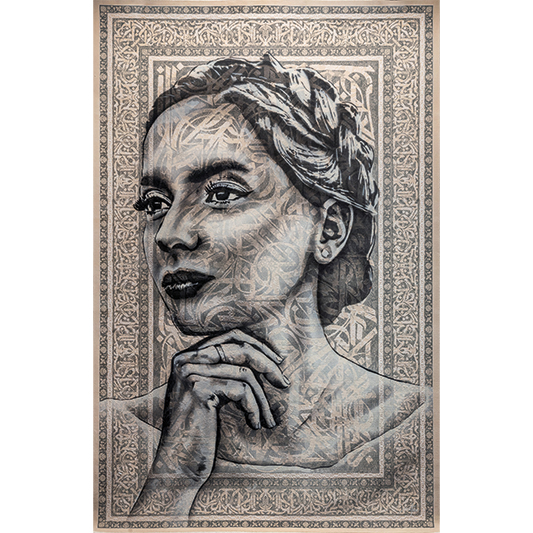 Sara 
220x150cm 
Spray paint on traditional carpet
–
Women for Women International supports women in Afghanistan and empowers them with skills, knowledge and resources to create their own path to long-term security and self-reliance (and for generations to come).