Biography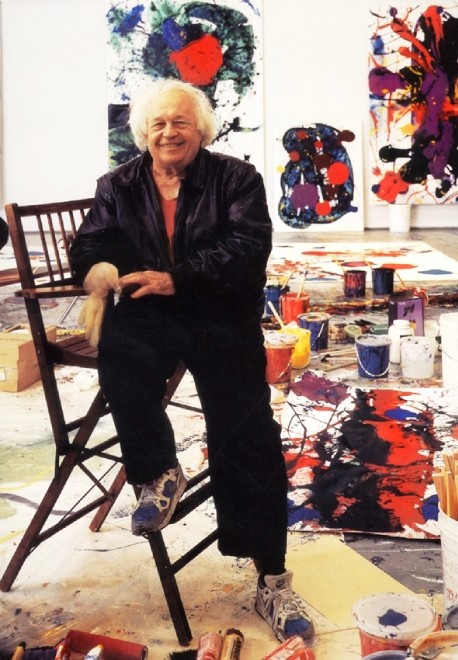 Sam Francis, American artist, was born in 1923 in San Mateo (California) and died in 1994 in Santa Monica. Samuel Lewis Francis, known as Sam Francis, is a representative of non-figurative painting and more particularly of Action Painting in the United States, a movement in which the very act of painting is carried out without any preconceived idea of the final result. It is the act, the gesture of the artist, that takes precedence.
In 1943, he enlisted as an aviator in the air force, but in 1944 his plane crashed in the middle of the desert. He was hospitalised for two years with a spinal injury and began to paint during his convalescence, convinced of the therapeutic virtues of art. After leaving the hospital, he began studying art at Berkeley and in 1946 he left for San Francisco to take classes with Clyfford Still, an artist he had discovered at an exhibition.
Sam Francis sought to convey an impression of infinity, a space without beginning or end. His works are then only pieces of an infinity that continues well beyond the canvas. In this way he goes beyond the very notion of a frame. Figures and background must occupy the entirety of the pictorial space, diluting to make room for depth.
In some of his paintings, this "dissolution" of the figure goes so far as to make it liquid, resulting in vertical flows of paint, similar to a spider's web, a network linking the spots together. This is followed by a thorough research on light. He was preoccupied by the two contradictory states of light: black, the original background from which the light emerges, and white, the basis of light and the sum of the colours.
He sought to achieve the right balance since, according to him, "an increase in light leads to an increase in darkness". This is why he experimented with the superimposition of "veils of colour" which allowed him to attenuate the intensity of the light. His painting is not fixed. The irregular shape of the spots and the unevenness of the colour in tones and shades give an impression of movement.
More info about this artist?