Biography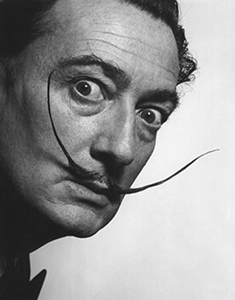 Salvador Dali, born on May 11, 1904, is a Catalan painter, sculptor, engraver, scriptwriter and writer. He is considered one of the main representatives of surrealism. The Catalonia of his childhood will always have a privileged place in his work as well as in his life. Very early on, he showed an attraction for figurative art and painting, already revealing his original and inspired personality. He takes private drawing lessons.
His parents had lost their first son, also named Salvador. The young Salvador was deeply disturbed when he saw his name on the grave. "All my eccentricities, all my inconsistencies are the tragic constant in my life […] I want to prove that I am not the dead brother, but the living one," he writes. While Dadaism was at its height in Paris, Dalí was admitted to the San Fernando Institute, the Madrid School of Fine Arts. There he perfected his knowledge of sculpture, drawing and painting. Violently contesting the competence of his professors, Dalí was expelled from the Fine Arts School of Madrid in 1922. It is at this time that he met Lorca and Buñuel, while during his first trip to Paris in 1926 he met Picasso.
In Paris, Dalí met Breton, Eluard, Magritte and Ernst. He officially joined the Surrealist group. In the summer of 1929, the poet Paul Eluard and his wife Elena (Gala) visited the painter in his house in Cadaqués. It was love at first sight between Dalí and this woman. She was to be his "surrealist muse", the inspiration for his life and work. Dalí exhibited in Paris for the first time (11 paintings). During the Second World War, Dalí and Gala moved to the United States. They will remain there until 1948. These years were very important for him. The Museum of Modern Art of New York offered Dalí his first retrospective exhibition in 1941. In 1942, Dalí published his autobiography, The Secret Life. Dalí was always more prolific: he wrote and illustrated books, designed sets and costumes for operas, shot films, elaborated new theories, sculpted, drew, created jewelry and furniture, mixed different artistic techniques, his genius had no limits in art.
In 1974, Dalí inaugurated the Teatro Museo Dalí in Figueras, Spain. This event was followed by retrospectives in Paris and London until the end of the decade. After the death of his wife, Gala, in 1982, Dalí's health began to decline. He died on 23 January 1989.
More info about this artist?