Biography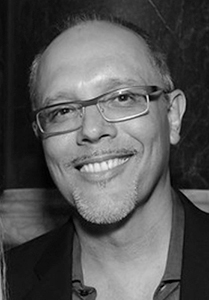 Gil Bruvel is a visionary artist, able to translate complex ideas and fleeting impressions into stunning works of art. Bruvel's early works are marked by a desire to escape reality, rather than to penetrate it on a deeper level.
He was influenced by surrealists such as Salvador Dali, Max Ernst and Georgio de Chirico. His art was an exercise in imagination through the painting of alternate realities.
To translate the complex interplay of forces that immerse us, he disrupts vertical lines by inserting horizontal lines. He creates intentional voids and negative spaces to highlight the disconnection.
Having undergone extensive training in his father's cabinet making business and then in a prestigious restoration workshop, Gil Bruvel's work demonstrates a mastery of technique and a high level of craftsmanship. He uses a wide range of supports and forms with ease. His sculptures in bronze, wood and stainless steel, as well as his functional furniture and mixed media works, all reflect a definite move toward three-dimensional representation.
The influence of architects such as Zaha Hadid, Frank Gehry and Lebbeus Woods is present in many of his pieces.
At first glance, one recognizes the ubiquitous human form, but is immediately transfixed by the thousands of wooden rods that make up the work.
The pixelated contours mimic our complex neural pathways, while his use of gradient colors reinforces the interconnectedness of our minds. The wood is charred to show the impact of natural phenomena on the physical form and its inherently transient nature, which transforms over time, revealing further patterns and details.
More info about this artist?