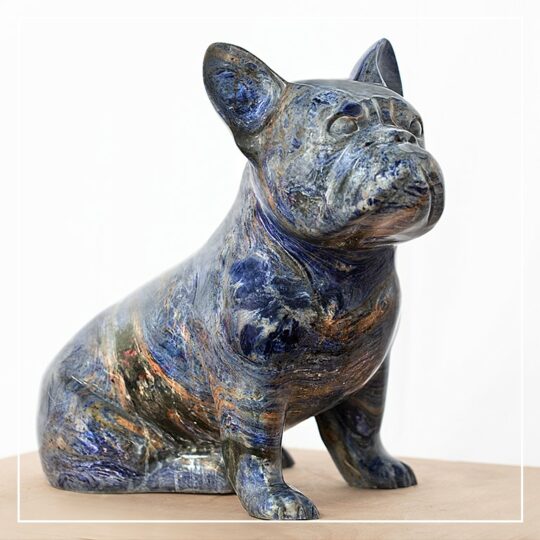 JULIEN MARINETTI – NEW CREATIONS
We are delighted to present the latest creations "DOGGY JOHN" and "APHRODITE" of the artist sculptor and engraver: Julien MARINETTI.
For his new creations, Julien Marinetti can his inspiration from Nature. The sculptor reinterprets his emblematic works to bring them into a new, almost celestial dimension.
MARINETTI imports blocks of Quartz (about 45 tons) from Brazil. This art and history enthusiast now celebrates this mineral, which has been used since antiquity to make jewelry.
With dexterity and meticulousness, he cuts each cube of quartz to create a "DOGGY JOHN" or "APHRODITE", Greek goddess of love, desire and beauty. Evoking the alliance between water and nourishing earth, the motifs of this thousand-year-old mineral differ on each of the works, counting their own history, making his works unique.
Fluidity of movement, textures, emergence and renewal of the material, the artist then comes to polish and varnish each sculpture for hours.
Going even further in his approach, Julien Marinetti hides geometric figures on his works. At the heart of each crack, he inlays marble powder painted in a deep blue.
These new creations are exhibited in our Parisian gallery:
GALERIES BARTOUX MATIGNON
5 avenue Matignon
75008 Paris