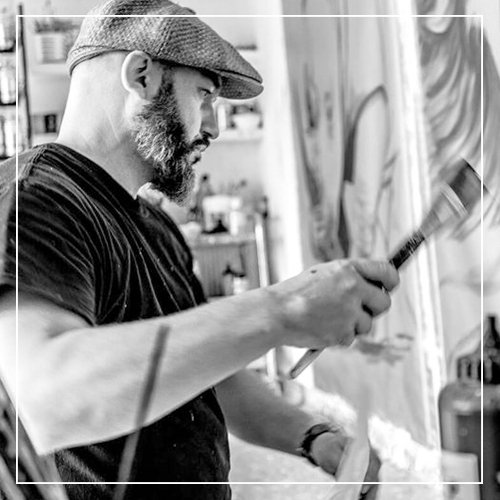 NOE TWO's first solo exhibition
The value of an artist can be measured according to the evolutions they achieve in their work. "Animal Feelings", the new solo show by Noé Two, marks a determining step in his career trajectory. It is his first solo show in London. The story is well known but it deserves to be recalled. Noé Two chose his pseudonym as a reference to the biblical story of Noah's ark and his interest in nature. Inspired by the New York art scene of the 1980s, Graffiti is his first playground. But he rapidly goes into a figurative line, in a hyper realistic way. Central to his work is his fascination with nature, particularly a meeting with a gorilla called "Yaoundé". Noé Two executes a fusion between the anthropomorphic figure of the great ape and the culture of distrust and triumphant masculinity of the Cuban cigar. Thus, he creates a new icon which takes his place in the collective unconscious.
On this occasion, Noé Two goes from graffiti to urban contemporary art even if the tag "vandal" from his early career remains in the paintings. The new artworks presented for "Animal Feelings" reveal the direction in which "Yaoundé" and his "Cohiba" have led Noé Two. The style is firmly settled, each artwork is immediately identifiable. By the coherence of his inspiration and the excellence of his execution, the artist can aim to take his place in the "Pop Culture" movement itself. And there is no better place than London to achieve this consecration.
Les Galeries Bartoux are pleased to present the first solo exhibition "ANIMAL FEELINGS" at our London gallery on Thursday, October 25th 2018
GALERIE BARTOUX – 104 New Bond Street – London
(text: Jean-Martial Lefranc)