Biography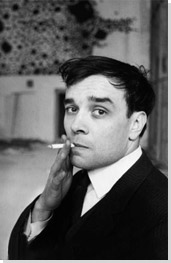 Yves Klein, French visual artist, was born in Nice in 1928, died in Paris June 6, 1962.
Despite a very short career, he is still considered as one of the greatest representatives of French contemporary art.
Co-founder of the New Realists movement, Yves Klein's searches through his monochrome paintings to feel the soul, to personify color and express the worlds which resides in that color. It was in 1956 that he selected an ultramarine blue – mat, saturated color, almost feeling like velvet, which was, according to Klein, "the most perfect expression of blue". After working in collaboration with a chemist he managed to create the most perfect blue in his eyes, the ultramarine blue: the "IKB" or "International Klein Blue". Blue, according to Klein, is the only color with no dimension and would at most recall us of the sea and the sky, that is to say what is most abstract in tangible and visible nature.
This color will become his signature and will be, in his work, the link between matter and the spiritual, between reality and the sacred, between our world and the infinite – the invisible reality will become visible.
More info about this artist?