Biography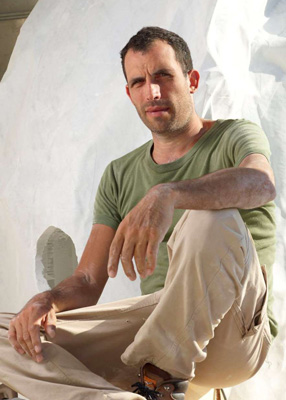 Fabio Viale, born in 1975 in Cuneo (Italy), has been sculpting marble since he was 16 years old. He spends his summers with craftsmen to learn all the secrets of the trade. After his studies at the artistic high school and at the Accademia Abertina in Turin, he started to sculpt professionally. His passion for marble led him to create architectural elements and monumental sculptures for the cemetery in Milan.
In 2002, he presented "AHGALLA": a marble boat capable of floating and carrying people with the help of an outboard motor. A few years later (in 2009), he launched "AHGALLA 2" on the Neva River in Saint Petersburg.
In 2010, Fabio Viale sculpts "CAVOUR", a monument dedicated to Camillo Benso in the Quirinale Palace in Rome.
In 2013, he made his debut in New York and carried over a year later, the 'Cairo Prize': an important recognition in the world of Italian contemporary art for his completely functional marble boat. In 2019, he participates in the 58th Venice Biennale collaborating in the creation of an installation reinterpreting the city and its lagoon. Fabio Viale's pieces are exhibited worldwide: in Italy, France, China, Russia and the United States.
More info about this artist?