Biography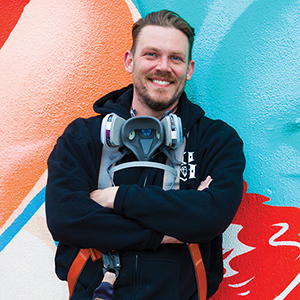 Tristan Eaton is an American artist born in Los Angeles in 1978. From London to Detroit, this great traveler discovered street art and graffiti as a teenager. Close to the punk culture and skateboarding, he develops his own artistic style. A graduate of the School of Visual Arts in New York, Tistan Eaton put his experience to good use at the age of 18, designing toys for Fisher Price. By conceptualizing the "DUNY" and the "MUNNY", he quickly established himself as one of the founders of the toy design movement.
A few years later, Tristan Eaton founded Thunderdog Studios, a creative agency, where he created original art and design pieces.
From muralism to studio painting and sculpture, Tristan Eaton is a complete artist. Through collage and juxtaposition, he transforms each of his creations into an accumulation of elements allowing him to explore his subject in a complex way.
Tristan Eaton's work, a major contemporary artist, is currently on view in the permanent collection of the Museum of Modern Art (MoMA) as well as the Cooper Hewitt Museum and the Long Beach Museum of Art.
More info about this artist?