Biography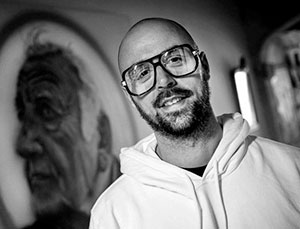 Taupenas Mathieu (alias Swed Oner), is a 36 years old French figurative artist living in the south of France (Uzès). His career as a muralist began in the late 90's with graffiti.
His art acts as a bridge between the street, the people, the cultures. He draws his inspiration from the cradle of diversity, the arteries of cities. His fortuitous encounters with the other lead him first to a work of photography, then in a second time, to the realization of a painting. The singularity of her subjects questions us all at once on the passing of time, the definition of beauty, feelings.
His acrylic and aerosol technique, exclusively in black and white, brings us a stamp, an authenticity, striking in his portraits. The luminous halo which comes to underline its paintings makes, as for him, reference to the equality, the protection, the spirituality. Capturing the real to transpose it into the unreal, is the outcome of the work of Swed Oner.
More info about this artist?