Biography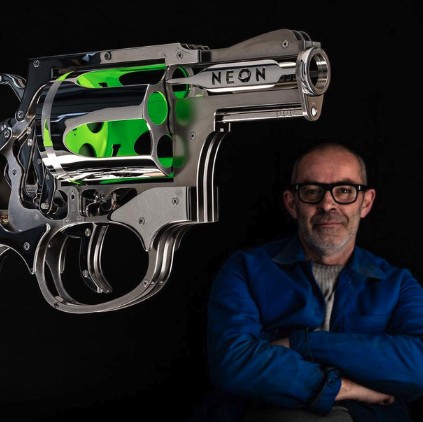 Jean Octobon's work can be seen in his metal-blackened hands. Stainless steel, aluminium and steel run through his veins. 
Like his grandfather, a blacksmith and boilermaker, Jean Octobon has a passion for these raw materials that he likes to bend.
From his father, a drawing teacher, Jean Octobon inherited a passion for the arts: he studied plastic arts, art history, architecture, technology and even industrial mechanics. 
As a child of the Nicois region, he set up his first workshop a few metres from the sea. Design was not yet the talk of television, but Jean Octobon was already taking up the challenge of the beautiful and the useful.
He drew, designed and made unique pieces. His autonomy is total and necessary for him who does not accept any compromise on the quality of his work. His staircases, fireplaces and other works were soon found in the beautiful villas of the south of France.
Jean Octobon's reputation grew, as did his desires, and behind the metalworker emerged the sculptor. In 2013, he decided to devote himself solely to his passion and his sculptures replaced the architectural metalwork in his workshop.
He finally gave birth to works that had long been in gestation in his imagination. His work radiates pleasure and perfection of execution, his ideas illustrated by his technical mastery are executed without the slightest hesitation.
More info about this artist?