Biography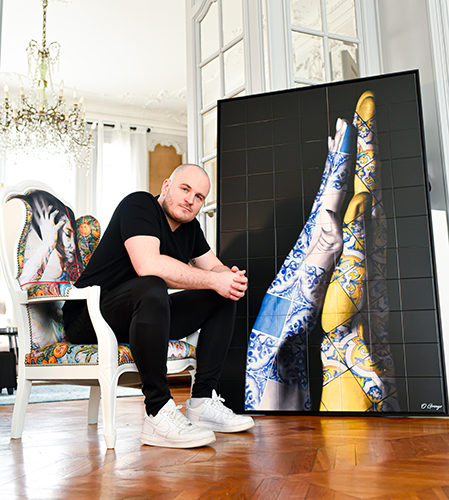 Originally from Nice on the French Riviera, O Gringo (Bastien Tomasini) was born in 1988. During his many travels, he has photographed iconic places, sumptuous settings and historical pieces in order to preserve their memory.
After 10 years in the world of photography, this history and architecture enthusiast has been merging – for the past 5 years – his different passions and creating unique works of art.
O Gringo is inspired by the ancestral tradition of 'Azulejos' (small glazed and hand-painted tiles that adorn the facades and interiors of Mediterranean buildings with a thousand colors), as well as by the artist Paolo Ferreira.
His mosaics take up the motifs he discovered during his various expeditions to the land of Azulejos and reveal fragments of its history. Spiritual evocation, history and modernity collide to better unite …
"My artistic work is impregnated with a moment of my life through my lens… I always project myself into the future based on the artistic movements of the past that have touched me, inspired me as if my life was a scroll of images and continuous emotions."
Imbued with Portuguese culture and the melancholy of Fado, each creation tells a story, based on true historical facts. The characters of these odysseys transmit a wide range of emotions, from consuming passion to the deepest melancholy… to touch our hearts.
Her collection "MARIZA" features the love of a woman mourning her husband who left at sea.
More info about this artist?