Biography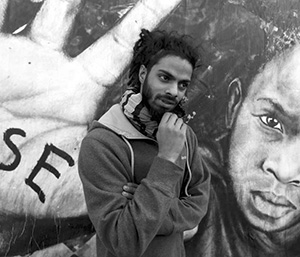 Originally from Kolar Gold Field, a small village in India, Samuel Mougey arrived in France to join his adopted family.
He studied at a jewellery school, where he handled metals and stones for four years and learned how to draw, design and finalize a goldsmith's work from the most beautiful Swiss jewellery houses.
It was at the end of his schooling that he became passionate about painting and portraiture, and decided to turn his back on jewellery, preferring acrylic and pencil to fully express himself.
An opening to the world is what Samuel proposes in his humanist portraits representing a multitude of faces from the 5 continents.
Inspired by the great classics of art history, he creates his works by recomposing characters with traditional clothing and jewellery.
His paintings decorate the walls of Portugal, Brazil, Poland but also cities such as Prague, Berlin, Brussels. A true image hunter, he captures the eyes, the faces always very colorful and decorated.
More info about this artist?