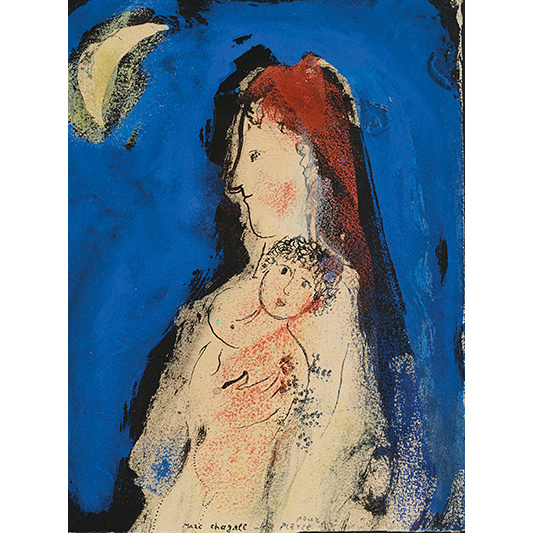 Biography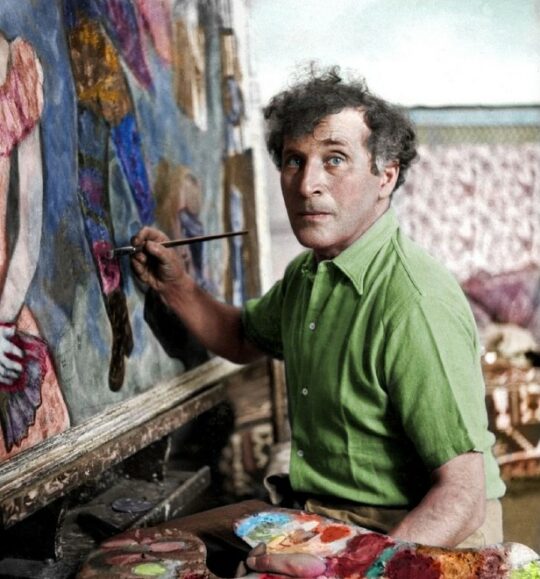 Marc Chagall was a Russian painter and engraver born in 1887 in Liozna (Belarus) and died in 1985 in Saint-Paul de Vence. His real name was Moishe Zakharovitch Chagalov and he studied painting in St Petersburg from 1907. From 1910 to 1913, he lived in Paris where he met Modigliani. He was interested in new artistic trends such as Fauvism and Cubism.
The former inspired him to use pure, cheerful and clear colours, the latter to deconstruct the object. The poetic memory of religious and peasant Russia emerges in his works, where the sacred and the profane, the real and the miraculous, mingle. In the Montparnasse group of artists he frequented, he brought the magical world of his Russian homeland, the Hebrew rites, the work of the fields.
Inspired by Jewish tradition and Russian folklore, he developed his own symbolism around his intimate life. In his paintings, where bright colours dominate, humans and other creatures often appear in suspense. Chagall offers us his benevolent, even naive view of the world and an omnipresent love, imbued with a deep spirituality. He transforms the everyday into the wonderful.
After a trip to Israel, Chagall described the Bible as "the greatest source of poetry of all time" and from then on he said he "sought this reflection in life and in art". A museum is dedicated to him in Nice and another in Vitebsk in Belarus. Charged with numerous public commissions such as stained glass windows, ceiling decorations and wall decorations, Chagall is a major representative of modern art in France in the 20th century. 
More info about this artist?