Biography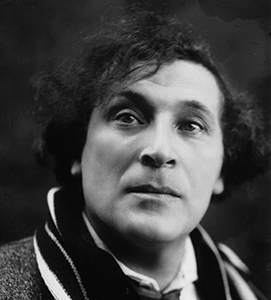 Russian painter and engraver born in 1887 in Liozna (Belarus) and died in 1985 in Saint-Paul de Vence. From 1907, Marc Chagall studied painting in St. Petersburg and from 1910 to 1913 he lived in Paris where he met Modigliani and discovers Fauvism and Cubism. The first inspires him pure, cheerful and bright colours while the second one a certain deconstruction of the object. The poetic memory of religious and peasant Russia is present in his early works, where the sacred and the profane mingle, and reality meets the miraculous.
In the Montparnasse artists group, he brings them the magical world of Russian land, Hebrew rites, fieldwork. Inspired by Jewish tradition and Russian folklore, he develops his own symbolic sensibility about his private life. In his paintings dominated by bright colors, humans and other creatures often appear on hold. Despite the time period of conflict in which he lives, Chagall offers his benevolent and naive view of the world with an ever-present love, filled with deep spirituality. He magnifies everyday life into wonderful. After a trip to Israel, Chagall described the Bible as "the greatest source of poetry of all time" and therefore he said he will "look for this reflection in life and in art." From this moment he devoted his work to the biblical theme, translating Scriptures into paintings and engravings. A museum is dedicated to him in Nice and another one in Vitebsk, Belarus. Numerous public procurement were requested from him such as stained glass, ceiling decorations and wall hangings.
Chagall is a major representative of modern art installed in France in the twentieth century. We find in his pictorial forms of a more intense chromaticism, elements from Fauvism to Surrealism. However, he will always remain outside of any artistic movement, highlighting a very personal style that one could describe as 'dreamlike chromaticism'.
More info about this artist?