Biography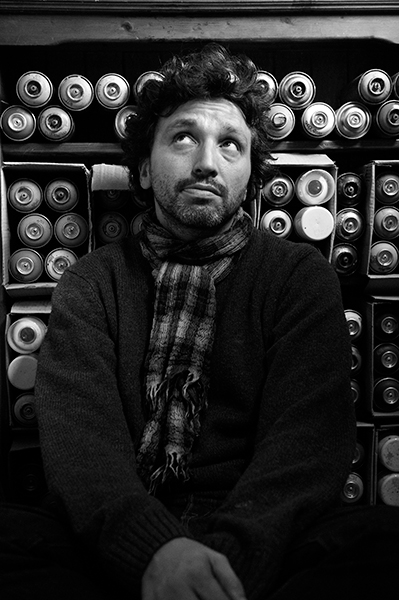 C215, a mysterious name that can refer to a pantone colour as well as a chemical formula. Behind this code name is in fact Christian Guémy, one of the most influential street art actors in France.
Born in 1973 in Bondy (93), orphaned at the age of 6, C215 was raised in the provinces by his grandparents. Eager to learn, he developed a passion for foreign languages and took several university courses: History of Architecture Theory, Art Theory with a specialization on the Renaissance, Economics and International Markets. Fascinated by the Renaissance period, he forged a humanist culture. As a young graduate, C215 became a historian for the Compagnons du devoir, then a researcher for a furniture union and export manager for a textile manufacturer before art finally caught up with him…
At the age of 32, Christian Guémy returned to the brushes he had abandoned since his adolescence. Distraught by a sentimental break-up, he began to paint portraits of his ex-wife and daughter on the walls of their neighbourhoods. Little by little, C215's work takes shape: his colourful stencils, so singular, flourish in the streets. The broken people he painted in his early days gave way to luminous looks: the artist likes his subject to fit into its environment. Forty years old, he lives in Vitry-sur-Seine (capital of street art in France) where he has had his studios since the end of 2007. Since then, his work has spread beyond the capital and its suburbs to the whole world, both on the street and in museums.
"Since 2010 and my exhibition of traditional stained glass windows entitled Prophètes (Saint Louis de la Salpétrière church), which I created in collaboration with a master glass artist from Chartre, I have never stopped trying to modernise the technique of stained glass, in order to abolish its limitations, that of lead, which I found toxic and not very adaptable to a precise design, and that of glass, which I found heavy and fragile."
After years of research, the appearance of the led, the modernization of materials and techniques, the artist arrived at a satisfactory result synthesizing all of his work: the finesse of the cuts and the complexity of the pigmentations referring to fifteen years of research in painting and sculpture.
C215's creations presented in the Galeries Bartoux are backlit boxes made of cut and sandblasted metal, LEDs, methacrylate pigments, solvents and lacquers.
More info about this artist?