Biography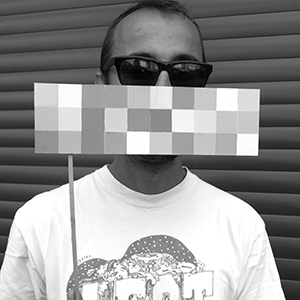 Gris1 was born in 1981 in France. He is a member of the Street-art collective DMV (Da Mental Vaporz). He began to take an interest in art in 1996, on the benches of the college.
At first, he tried his hand on public walls and discovered what graffiti really is. Twenty years later, he pours litres of colour on bricks, blinds, mobile supports to form flops, coloured pieces and monumental frescoes.
From festivals to exhibitions, he exports his passion and his name. In the studio, Gris1 asserts his thirst for freedom by mixing supports (canvas, wood…) but also styles and techniques to get out of classic formats and produce timeless works. These patchworks have become his trademark: he assembles his favourite universes and themes like a puzzle in order to produce a world in his own image.
Although he has built a personal identity through his productions, his distinctive style combines illustration, throw-up and vectorial touches. His view of the world allows his works to oscillate between childishness and lucidity on the current world.
More info about this artist?