BIOGRAPHY
Gris1 is a french artist born in the 80s, he found his vocation for art on the high school benches, in 1996.
 At first, he tries on the highway walls and other public supports and discovers what graffiti really is. Twenty years later, it's literal colors poured on bricks, blinds, movable supports … to form flops, colorful pieces and monumental frescoes on several continents.
From festivals to exhibitions, he exports his passion and his name. 
In the workshop, Gris1 affirms its thirst for freedom by mixing the supports (canvas, wood …) but also the styles and techniques to release classic formats and produce timeless works. These patchworks become his hallmark, he assembles as a puzzle his universes and themes of predilection in order to produce a world in his image.

If he has built a personal identity through his productions, his style recognizable combining illustration, throw-up and vector key, his works oscillate between childishness and lucidity on the world today.
 Today resides in France, Gris1 leads several projects, both individual and collective (With the crew Da Mental Vaporz) whether in the gallery or in the street …
Art pieces available
Brain damage • 160x120cm • Mixed media on canvas
La vie en rose • 160x120cm • Mixed media on canvas
La Catrina • 180x120cm • Mixed media on canvas
The life in blue • 120x180cm • Mixed media on canvas
Les amants • 120x160cm • Mixed media on canvas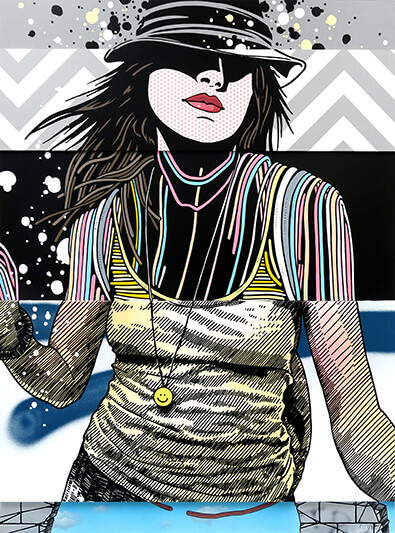 Listen to your full • 120x160cm • Mixed media on canvas
Les amants 2 • 120x160cm • Technique mixte
The dancing dog 2 • 150x200cm • Technique mixte