Biography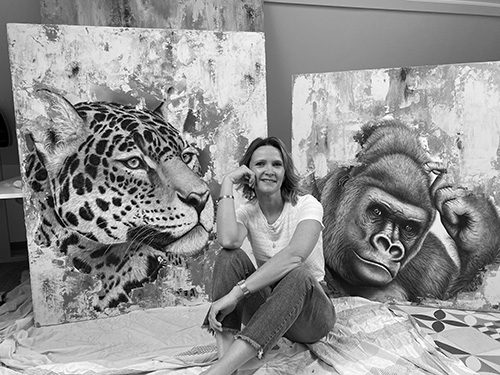 Born in 1979, Esther has always been fascinated by drawing and painting. While she was at law school, she did attend art class at l'Ecole des Beaux Arts of Caen. Once mastered in business law, she started working into the financial world.
But her passion for painting led her to leave behind a promising career as a banker. She then settles her workshop in Normandy where she starts dedicating her time to the hyperrealistic painting.
Hyperrealism is about the identical reproduction of an image in painting, with such realism that leads the viewer to wonder if the artwork is a painting or a photograph.
Esther's original compositions are full of life, realistic, calm and crazy at the same time. The esthetic part of her work is due to the contrast between black & white and the colors. But also to the gap between the main character, painted with an outstanding precision and melting colors responding to one another.
Each painting get's its own rhythm, the rules are upside down.
Two opposite techniques, hyperrealism and dripping, which eventually become one, in each of the artist's creations. This dimension just stops the viewer in his tracks and blows his mind.
This contrast really catches our attention, we get the feeling of becoming part of the painting.
The search for a deep emotion is the artist's main artistic focus. She chooses to represent animals as metaphors of our own intern conflicts : the fragility of the world we live in, human being's sensitivity, our search for freedom, the power of nature…
The "incarnated" animal allows us a better understanding of our inner, deeper feelings. Esther's work touches us and opens the door to a new mediation.
More info about this artist?