Biography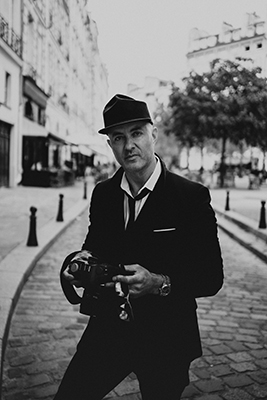 David Drebin's work uniquely combines voyeuristic and psychological points of view. He offers the viewer a dramatic glimpse into the emotions and experiences that many of us have no doubt felt at some point in our lives.
After graduating from Parsons School of Design in New York in 1996, David Drebin quickly made a name for himself as an internationally renowned photographer, creating photographs of film stars, sports personalities and events. He has gone on to shoot countless high-profile advertising campaigns around the world.
David Drebin is a multidisciplinary artist who works in a variety of art forms and produces limited edition works including photographs, light boxes, neon light installations, sculptures and glass prints. 
David Drebin's photographs are epic, dramatic and, above all, cinematic and have been collected worldwide. In a unique and opulent way, Drebin features femme fatales against the gigantic backdrops of cities such as Hong Kong, New York and Paris. The panoramas of the big cities, which are a tribute to the cinema in their format, serve as cinematic backdrops. With their impressive skyscrapers, they offer the viewer an almost infinite surface for the imagination.
More info about this artist?