Biography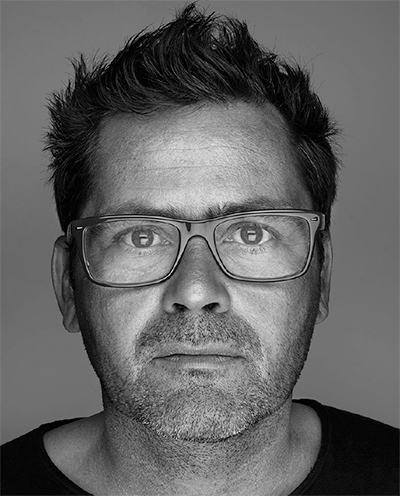 Born in Paris in 1968, Stéphane Cipre, a sculptor of words, is the youngest of a family from Nice. His parents were tradesmen and passed on to him an educational model based on the value of work and a taste for effort. At a very young age, Stéphane Cipre began an apprenticeship in fashion design, a profession that he practised for more than 10 years in the family business (alongside his father, Meilleur Ouvrier de France).
His artistic career began in 1997 after he had studied art history for three years in evening classes at the Ecole des Beaux-Arts in Nice. At the same time, he began to attend the Villa Thiole, the Municipal School of Plastic Arts in Nice. Following this training, he swapped the fabric and the sewing machine for sheet metal and the soldering iron.
His first works (strongly influenced by the world of fashion) are sometimes qualified as academic figuration, then become more and more graphic. Naturally, like a child taking his first steps, writing became part of his work. More than 20 years after his debut, the artist has conquered an international clientele and his creations are now presented all over the world. Some of his works are in the collections of several international foundations.
Stéphane Cipre mainly uses cast aluminium: the surface is smooth or reworked, brushed or coated with coloured lacquers. This material blends perfectly with other materials such as wood or sheet metal. It can also be combined with various mixed techniques to achieve surprising material and colour effects.
Making sculptures from the elements that are used to pack them, the artist then straps, compresses, sequences or deposits his "ART LETTERS" on transport pallets to offer a new distorted dimension of reality.
For the artist, it is essential to conceive and realize his works from A to Z. He is constantly looking for technical solutions to the constraints imposed by his ever more majestic sculptures.
More info about this artist?