Biography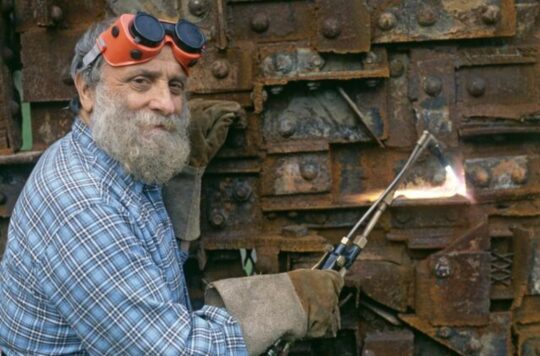 César, born César Baldaccini, was a French sculptor born in 1921 in Marseille and died in Paris in 1998. After studying at the Beaux-Arts in Marseille from 1935 to 1939, and then in Paris from 1943 to 1947, César met Pablo Picasso and Germaine Richier, and lived for a time in the same building as Alberto Giacometti.
These three artists had a strong influence on his early work. César made his first sculptures in iron and plaster at this time. From 1956 onwards, he began to weld together pieces of scrap metal, creating imaginary, figurative and semi-abstract figures of insects, mammals and nudes.
Influenced by the New Realism, which drew its inspiration from urban life, in 1960 he began to produce his famous "directed compressions", giving rise to dense ensembles from car chassis and metal objects that were hammered together. From that time on, César was considered one of the most important French sculptors of his generation.
His work can be admired at the Centre national d'art et de culture Georges-Pompidou, at the Musée d'art moderne de la Ville de Paris, at his grave in the Montparnasse cemetery, on the esplanade at La Défense, or in Marseille, on the Avenue de Hambourg, near the MAC and at the Centre Bonneveine.
More info about this artist?