Biography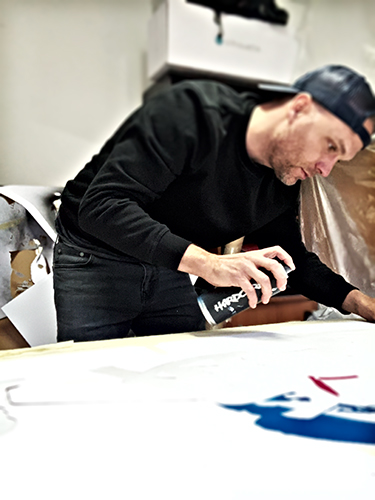 Być, a Swiss artist born in Lausanne in 1982, did not choose this pseudo at random: in Polish, the homeland of one of his grandfathers, this word means "to be" or "to seek". Indeed, in all his artistic approach, there is an undeniable existential quest, already begun in childhood, when he draws and paints everything and all the time, asking for paper, again and again… One might have thought then that it was a passing fad, but it is not; drawing, painting, caricaturing, is his fundamental, one might even say vital, means of expression.
Already at the age of 18, he is a qualified graphic designer and immerses himself in the world of advertising, earning a good living there because he quickly reaches an international level, but also sees the limits, both artistic and ethical. After several years, he voluntarily distances himself from it, to devote himself entirely to his artistic research, which he had never abandoned in parallel with his career.
He goes out of his comfort zone (his academic training) and for more than a year, 7 days a week, from morning to night, he uses the graffiti technique to jostle himself in his methodologies and his choice of media. By giving up his previous career, he also gives up the easy way out: he has to solve economic problems (premises, painting, materials…). Then he leaves for the USA, in Taos, and rubs shoulders with the great desert spaces, endures the culture shock, and there again jostles himself. He is interested in recycled materials, and makes these new constraints of objects abandoned in the desert an element of his message. Everything makes sense. The medium itself inspires him, and dictates the work.
For Być, there is a kind of complicit association between the used object, whose poetry of previous use he perceives, and what it inspires him. In this way he can also express his vision of contemporary art and Street Art, which goes from the street to the biggest museums, questions the world, sometimes mocks, often denounces, or admires. For Być, to provoke is to make people think, to mix, to connect: people, eras, styles, perceptions.
More info about this artist?