Biographie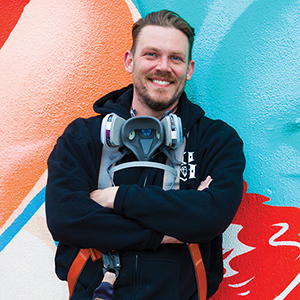 Tristan Eaton est un artiste américain né à Los Angeles en 1978. De Londres à Détroit, ce grand voyageur découvre l'art de rue et le graffiti à l'adolescence. Proche de la culture punk et du skateboard, il développe son propre style artistique. Diplômé de la School of Visual Arts de New York, Tistan Eaton a mis à profit dès l'âge de 18 ans, son expérience au profit de la conception de jouets pour Fisher Price. En conceptualisant le « DUNY » et le « MUNNY », il s'impose rapidement comme l'un des fondateurs du mouvement des jouets design.  
Quelques années plus tard, Tristan Eaton fonde Thunderdog Studios, une agence de création, où il imagine des œuvres d'art ainsi que des pièces design originales.
Du muralisme, à la peinture d'atelier en passant par la sculpture, Tristan Eaton est un artiste complet. Par des effets de collage et de juxtaposition, il transforme chacune de ses créations en une accumulation d'éléments lui permettant d'explorer son sujet de manière complexe.
Les œuvres de Tristan Eaton, artiste majeur de l'art contemporain, sont aujourd'hui présentées au sein de la collection permanente du Museum of Modern Art (MoMA) ainsi qu'au Cooper Hewitt Museum et au Long Beach Museum of Art. 
Plus d'info sur cet artiste ?