Biographie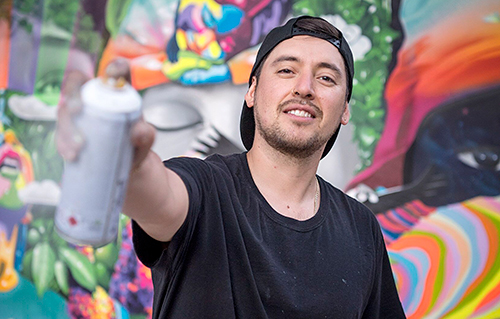 Les créations de Dasic Fernández sont le résultat d'un voyage de découverte de soi en développement constant.
À l'âge de 14 ans, fasciné par la culture des rues chiliennes des années 90, il a trouvé un moyen de fusionner avec l'art et de ne faire qu'un à travers la peinture.
Avec une forte influence politique et sociale dans son travail, et une formation en école d'architecture, son art reflète sa vision du monde avec de fortes émotions, lui permettant d'exprimer ses expériences à travers des peintures murales et des peintures au sol.
Aujourd'hui, Rio de Janeiro, Buenos Aires, Montevideo, New York, Miami et Riyad sont le terrain de jeu de Dasic Fernández pour exprimer son amour et son art.
« Love, above every feeling, is the essence of art and humanity. This journey begins and ends with love »
Plus d'info sur cet artiste ?